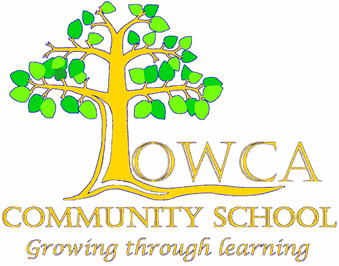 Lowca Community School English Aims and Vision
Our vision for English ensures every pupil is given a broad, balanced and relevant curriculum that takes into account the requirements of the National Curriculum. We believe that the fundamental functions of language as a means of expressing and developing and sharing feelings, ideas and establishing contact with others and bringing about desired responses, are crucial in achieving happiness, underpinning life skills and all aspects of the curriculum. We therefore believe that all aspects of language need to be developed in as many different ways as possible in order to help children achieve a confident, fluent and appropriate use of language.
Our purpose is to enable children to:
• Read with enjoyment and understanding for a variety of purposes.
• Write for different purposes in an appropriate style using spelling, punctuation and syntax accurately and confidently.
• Communicate effectively.
• Develop accurate listening skills
This is to be developed through engaging children's learning, by encouraging a happy, investigative and enquiring approach where there are no limits to curiosity and there is a thirst for new experiences and knowledge.
INTENT
We believe that a quality English curriculum should develop children's love of reading, writing and discussion. We aim to inspire an appreciation of our rich and varied literary heritage and a habit of reading widely and often. We recognise the importance of nurturing a culture where children take pride in their writing, can write clearly and accurately and adapt their language and style for a range of contexts. We want to inspire children to become confident in the art of speaking and listening and to be able to use discussion to communicate and further their learning.
We believe that children need to develop a secure knowledge-base in Literacy, which follows a clear pathway of progression as they advance through the primary curriculum. Through our English Curriculum, we strive to teach the children how important their reading, writing, speaking and listening skills are now, and for later life.
IMPLEMENTATION
Children in the Foundation Stage work towards achieving the Early Learning Goals.  They experience a language-rich curriculum in which they are encouraged to explore the use of language through role-play, stories, rhymes and other activities.  Oral story-telling enables children to re-tell known stories with a series of actions. The journey from mark making to writing is outlined in our mark making policy.
The English curriculum for Years R, 1, 2 is delivered through a 3 year rolling programme of topics or themes. In this way learning has meaningful links. Years 3, 4, 5 and 6 follow a 4 year rolling programme of themes or topics so that learning has purposeful links. For example in the topic of "Greece now and then" Children study the human and physical aspects of Geography, the historical aspects of Greek life, the mathematical advancements in geometry, which then gives an exciting base for an English lesson- writing a diary entry in role. Texts studied and the genres covered link to the overall topic enriching each subject and enabling important cross-curricular links to take place. The sequence of skills required for each year group is delivered within this.
In EYFS and Y1, the development of reading skills begins when children are introduced to phonics using Letters and Sounds. We have adopted the ELS scheme as letters and sounds is no longer going to be on the accredited list of synthetic phonic schemes. Children are assessed regularly and additional interventions offer support to those requiring it. Home take home booklets in rec and year 1 match the phonics phase being practiced in school. Reading is taught on an individual basis with years R, 1, 2 and 3 reading to their teacher every day. The input for teaching includes comprehension questions as well as decoding phonic coaching circling the phonics the children have covered and linking this to our homework (spelling shed) and weekly spellings which have a phonetic pattern. From Year 2 onwards children learn reading comprehension in groups studying a text (linked to the topic theme, and developing comprehension skills of vocabulary, inference, prediction, explanation, expression, retrieval of information and "summing up". Children in Reception and Year 1 develop reading skills through a 'shared reading' experience as well as individual take home books.
In spelling, EYFS and Y1 children practise high frequency word lists and spelling pattern lists set out in the letters and sounds guidance. From Y2 onwards, spelling strategies are further developed through a range of fun activities and games, following spelling shed's spelling program. Children will learn spelling rules, word definitions and be able to make sound and word associations which will provide them with life-long strategies.
IMPACT
The result of the teaching of systematic phonics is that the children will find decoding and transcribing easier and succeed in reading and writing. Combined with whole word shape recognition, context clues and a joy for reading the children will become fluent readers and meet the expectations for the end of key stage 1. Following the progression in the schemes of work for reading, writing, speaking and listening will lead children to meet their end of year expectations in the subject of English. Teachers review children's work on a daily basis and give verbal or written feedback as appropriate describing next steps.Teachers use the assessment frameworks and guidance on teacher assessment to judge if a child is on track to meet these expectations. Diagnostic assessment is made using teachers experience and expertise to give strategies to help pupils catch up if they are not on track.
Attainment in reading is measured using the Early Learning Goal benchmark, phonics screening check in June of year 1 and statutory assessments at the end of Key Stage One and Two. These results are measured against the reading attainment of children nationally.
Schemes of work adopted by Lowca Community School
Oxford Owls Essential Letters and Sounds – supported by additional non-reading scheme books.